Los Angeles is more than just a place of celebrities, glamour, and the good life of fame. For every bit of glitz is stain of grime, for every kindness is the presence of cruelty and abuse. Just ask Eldad Hagar, the leader of the Hope For Paws rescue team. They work their tails off night and day to rescue four legged friends from the dark side of  Los Angeles.
Hope For Paws Saves Dogs And Other Animals
Hope For Paws is a 501 C-3 nonprofit organization that rescues dogs and other animals from the streets. According to their website About Us page, they are a group of caring individuals whose "goal is to educate people on the importance of companion animals in our society." They've dedicated their valuable time to animals who are victims of negligence, abandonment, and abuse.

Hope For Paws Youtube
LA Can Be Hard On Animals
Every year, thousands of dogs, cats, and other animals become victims. Whether lost, stolen, dead, abandoned, or taken from the home, LA Animal Service's website reveals the startling general statistics of how many animals they deal with each year – a rough 179,000 dogs. That doesn't even take into account cats and other animals. It's clear that LA can be hard on man's best friend.

ChangeClothesChangeLives.com
Hope For Paws Also Saves Animals From Shelters
Not only does Hope For Paws rescue our four legged friends from the unkind streets of Los Angeles, they also save these animals from other shelters who might otherwise not make it. It's a known fact that many shelters, even those who claim to be cruelty free, euthanize elderly, sickly, or unwanted animals that they believe won't be adopted. Hope For Paws, however, believes that there is a home for all animals. They just need time to find it.

Hope For Paws Are Called To LA Park For Emergency
One day, Hope For Paws is called out to a park in LA. They were told to come as soon as possible and had no idea that this call would change their lives forever. Like good Samaritans, they took the call and arrived at the park, prepared for the worst but hoping for the best. They were blown away by what they found!

SoPawfect
When They Arrived, They Met A Depressed Dog
When they arrived, the rescuers met a stray dog named Petunia, a small black dog the neighborhood had been trying to help with limited success. Right away, Eldad noticed the sad dark eyes and could see Petunia trembling with fear. He knew that he had to approach her carefully and to do whatever it took to show her he was not a threat.

TheDodo.com
Eldad Stresses The Importance Of Gaining Petunia's Trust
Eldad stated, "I laid flat on my stomach and crawled under the truck. Petunia wagged her tail nervously, but I knew we would be cool. At one moment this closeness made her nervous." He said that strays should always be approached with caution because this nervousness or fear causes dogs, like people, to react in unexpected ways. Gaining an animal's trust is paramount!

Littlethings.com
Eldad Manages To Grab A Hold Of The Stray Dog's Leg
According to Eldad, waiting hours for the dog to warm up to you can be worse than grabbing them in an instance. He wasn't going to put Petunia through that. So Eldad grabbed her by the leg. "The way I always explain it to people who ask about me doing something a little more 'aggressive' (like grabbing a leg) is that having this stress for five seconds is worth the lifetime of happiness that is coming ahead of them."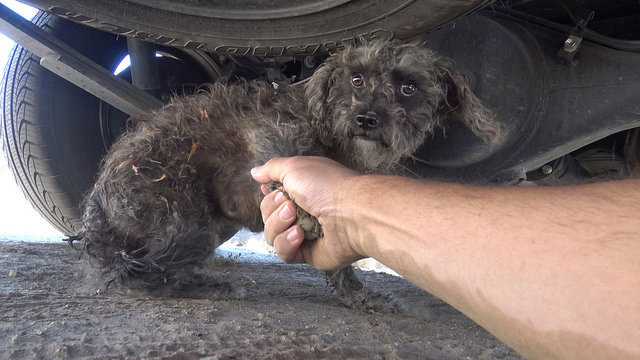 Thedodo.com
Hope For Paws Gives Petunia A Hug
Eldad was afraid if he didn't grab Petunia she would take off again and they wouldn't be able to help her. Once she was safely pulled from under the truck, where she was hiding, he brought her close for a reassuring hug and pat on the head. Petunia relaxes a little bit in his grasp and the team tells her the rough life is over.

Littlethings.com
Hope For Paws Is Happy Petunia Only Has An Infection
Once they removed her and comforted her, they checked her over for wounds, ticks, fleas, and illness. It's not uncommon for strays to be in turf fights, scuffles, or become harmed by accidents that frequently take place in the city. After looking her over, the vet determined Petunia only suffered from a minor ear infection, making her one lucky pooch!

Honesttopaws.com
Eldad Realized The Dog Was Protecting A Pile Of Leaves
Even after rescuing her, Eldad and the team noticed she remained guarded and skittish. She struggled to be released and made frequent attempts to escape their helpful hands and defend an area off to the side of the park. After a few moments, Elda decided to check it out, wondering what could have Petunia so on edge. He dug around in a pile of leaves and made a startling discovery.

Viralnova.com
Hidden In The Leaf Pile Was A Cute Surprise
There, at the edge of some bushes and hidden under leaves, was a small caramel colored puppy. Suddenly, Petunia's agitated state and nervousness made sense. She was the puppy's mother. After carefully picking the puppy up, Eldad brought it to Petunia, who was immediately relieved to be reunited with her baby pup. It just goes to show, that  on the harsh streets of LA, you can find the strongest perseverance in even the smallest of man's best friends.